£50 Low Deposit on 2012 School Summer Holidays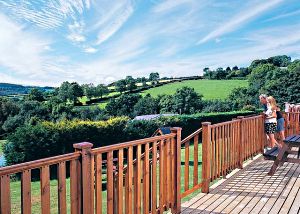 Get ahead of the crowds and book your 2012 summer holiday early. It's a great time to bag a bargain in the school holidays as many parks have held their prices for next year.
Get first choice of lodges throughout the UK on dates to suit you. Peak times doesn't have to mean expensive.
And the best thing is that you don't have to raid your piggy bank if you're planning a break in the school summer hols.
Book your bargain 2012 lodge break for just £50 deposit. But hurry - to take advantage of this low deposit offer you must book by 29th February 2012.

You can save money on many lodge breaks for next year so why not take a look and see if we have the perfect lodge holiday for you.

If you want to get away from it all then we recommend lodge escapes like Queenshill Lodges in Castle Douglas and Grattons Cedar Lodges in Devon. All of the lodges classified as Lodge Escapes tend to be in idyllic settings with fantastic views. You will be ideally located for exploring but the lodges also have an "away from it all feel". Other recommended lodges in this category who have held their prices for 2012 include Heronstone Lodges in Powys and Bulworthy Forest Lodges in North Devon. Both of these parks offer lodges with private hot tubs and a lovely setting.

If your style of holiday includes both relaxing and exploring then look out for the "Relax and Explore" category of lodges. With tranquil settings and convenient locations for exploring these lodges have the best of both worlds. Angecroft Park on the Scottish Borders is a good option with a picturesque location and tranquil setting. We also love Rainbows End in Norfolk which combines a peaceful location with direct beach access - perfect for families. Gwalia Falls in Wales also offers direct beach access and a fantastic base to explore the local area. The lodges provide a stylish and luxurious base to return after a busy day exploring.

If you prefer a lodge holiday with a more lively atmosphere them look out for the "Family Fun" category. These lodges tend to have good facilities and amenities on site to keep the whole family entertained. Examples of great parks include Billing Aquadrome in Northamptonshire with family entertainment and even a funfair! Ladram Bay in Devon is also very popular with beach access and an indoor pool. Some of their lodges come with private outdoor hot tubs.

Luxury lodge breaks are popular with those looking for a relaxing holiday in sumptuous surroundings. If this sounds like your kind of holiday then look out for the "Ultimate" and the "Autograph" Range. Lodges in the Ulitmate and Autograph collections have been handpicked and offer high standards of lodge accommodation. We love Oaksey Country Cottages in Wiltshire, Penvale Lake Lodges in Denbighshire and Lakeview Country Club in Cornwall to name just a few.
If a hot tub is important to you then there are plenty of luxury lodges with hot tubs to choose from. Some of our favourites include Oakwood Lodges and Faweather Grange Lodges in Yorkshire, Black Hall Lodges in Shropshire and Bluewood Lodges in Oxfordshire. All of these offer idyllic settings, fantastic views and luxurious lodges with hot tubs.

No matter what your perfect holiday consists of - a romantic getaway for two, or a relaxing family holiday in peaceful surroundings by booking early you can take your pick! And don't forget if you book your summer holiday by 29th February -and it's in the school holidays - it's just £50 deposit to pay!

Secure Your 2012 Lodge Break Now >>
Other guides you might like
Home »
More Special Offers »