Herbage Country Lodges - Maldon, Essex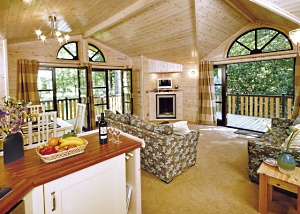 If you are looking for a romantic holiday in the UK where relaxation and pampering are top priorities then look no further than Herbage Country Lodges in Maldon, Essex. This cluster of contemporary lodges has a stunning location amidst the rolling countryside and is ideally placed for exploring all that the region has to offer.

Facilities at Herbage Country Lodges are first class and include an indoor swimming pool, sauna and Jacuzzi. There is also a fitness room and a beauty room offering a range of pampering treatments. On an evening guests can relax with a meal and a drink in the bar and restaurant. Golfing enthusiasts will love the choice of a 9 or 18 hole course the onsite pro golf shop. The stunning countryside around the lodges is the perfect place for a romantic stroll and you may even spot deer's grazing on the hills. The bright lights of London are also less than an hour away.

All of the lodges here have been designed to meet the needs of the most discerning traveller and offer the very best in comfort and style. Couples on a romantic lodge holiday may prefer the Worcester Lodge which was new in 2008 and has one double bedroom with ensuite, a spacious open plan living area and a large external deck with luxurious private hot tub and gorgeous views.
Other guides you might like
Home »
More Romantic Lodges »