Lochgoilhead Lodges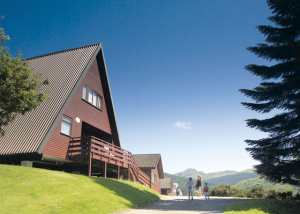 Lochgoilhead Lodges are a great choice for a UK break with a difference. The holiday park at Lochgoilhead which consists of caravans and lodges is attached to the quality Drimsynie House Hotel.

Families and couples would enjoy a holiday here if you are looking for a place to relax but also like to get out and explore. Lochgoilhead lodges are set right in the heart of the Loch Lomond and Trossachs National Park which makes for some breathtaking scenery and panoramic views from the park. The backdrop of mountains and views over the Loch are incredible.

One the best things about Lochgoilhead is the vast range of outdoor activities which means you will have plenty to do no matter what the weather is like. And we all know how unpredictable the British weather can be. It can be reassuring to know that you won't be stuck indoors with nothing to do, should the weather be disappointing. The range of activities and the views will more than make up for that.

For the active there are some fantastic opportunities to try out new things such as Pony Trekking. And for tennis fans there are some popular tennis courts for use. If you like to be indoors then you will have a leisure pass which gives you access to the swimming pool as well as the relaxing sauna, jacuzzi and steam room.

If you feel like treating yourself there are some hairdressers on site within Lochgoilhead Park and also some beauty treatments if you feel like being pampered. And after all, relaxing and being pampered are what holidays are all about. Lochgoilhead really takes this into consideration and provides everything you need for a relaxing and enjoyable break.

Golfers will especially be in their element with a 9 hole Lochside golf course althoughlochgoilhead lodges charges apply for this. Lochgoilhead Park has a range of accommodation including caravans and traditional lodges. The caravans provide basic good value as a base for exploring the area.

The lodges are reccommended if you are looking for something more unusual or are perhaps on a romantic break. Both lodges are caravans are very well equipped with all the mod cons from TVs to kitchens.

Things to do near Lochgolihead Lodges

The area surrounding Lochgolihead Lodges is one of great natural beauty. Whether you are looking for stunning costal scenery or dramatic landscapes you can find it here. This area is home to Scotland's first national park and is a real haven for wildlife. Bird watchers travel here from all over Europe and at certain time of the year squirrels, dear and lizards can also be seen.

This area is a great choice for anyone who likes walking. There are a superb range of walks here with difficulty levels ranging from easy strolls along the loch side and gentle forest walks to more difficult treks in the nearby Arrochar Alps. Here even the most experienced walker will find challenges including a number of peaks over 3000ft. There are also several forest trails which are family friendly and great fun. Bike hire is available and a great way to get out and explore the area.

This is a great place for exploring and there are many places of interest to visit. The romantic ruins of Kitchurm castle provide excellent photographic opportunities and are well worth a visit. Loch Flynn is also within easy reach and is an excellent choice for a day out especially for foodies. Some of Scotland's finest seafood including oysters and smoked salmon come from this Loch and there are many great seafood restaurants near by where you can relax and enjoy the fresh local produce.

The pretty town of Oban is a lovely place for a day trip. This is the most important port on the west cost of Scotland. Here you will find beautiful scenery a friendly atmosphere and plenty of opportunities of souvenir shopping. Golf enthusiasts will be pleased to know that Loch Goil has a 9 hole golf course which runs along the shores of the loch and is very scenic, More experienced golfers will find many other course in the area. Argyll has 30 in total!

Argyll has something for everyone. From relaxing strolls and fishing around the Loch to more adventurous pursuits such as climbing, skiing, quad biking and canoeing as well as wide range of family attractions including castles, parks, gardens and picturesque villages.

Lochgoilhead Lodges Accommodation

There are plenty of lodges to choose from at Lochgoilhead Lodges so you are bound to find something to suit you depending on your budget and the size of your party. There are also some comfortable caravans on offer for those who like the traditional holiday park experience.

The Highland Ptarmigan 2 is a single storey lodge with one double and one twin bedroom. It also has a bath with an overhead shower and is a great choice for parties of 2 or 4. Alternatively you might prefer the Highland Ptarmigan3 which is a similar style but larger and sleeps 8. All of the Highland Ptarmigan lodges come with TV, DVD and hi-fi and equipped kitchen with microwave. They are also all located in a terrace with part views over Loch Goil.

The Highland Heron is a single storey lodge with one double, one twin and another room with bunk beds. This lodge has it's own picnic table and is within easy reach of the leisure centre. The views are lovely over a pretty stream. The Highland Osprey is a different type of lodge with a pointed roof. You can sleep 4-6 people in this lodge with 2 bedrooms. There is an extra shower room and a verandah with picnic table.

The Highland Lapwing is a pretty lodge with views over a stream to Kingfisher Village and positioned close to the leisure centre. With one double room and one twin this is a good choice for small families. It has all the mod cons including DVD and Hi Fi. A further option is the Highland Eagle 6, a large A Frame lodge which has the mod cons of the other lodges but also has a dishwasher and freezer. You can sleep 4-6 people in this lodge which comes with it's own Verandah and picnic table.

The final options are the Kingfisher Superior Caravans A and B. The Kingfisher Superior A sleeps 4 in two bedrooms and is double glazed and centrally heated. This makes it suitable for year round holidays. This caravan has a verandah with patio furniture so you can enjoy a relaxing meal or drink in the outdoors while taking in the breathtaking views. The Kingfisher Superior B is a luxury caravan with the same facilities as the A range but is larger and sleeps 6 in three bedrooms.

On the whole Lochgoilhead Lodges have something to offer everyone no matter what the size of your party is or whether you opt to stay in a lodge or a caravan. The amenities within all of the accommodations will make your stay a comfortable one and all offer great value for money.
Other guides you might like
Home »
More Recommended Lodges »