KP Lodges - York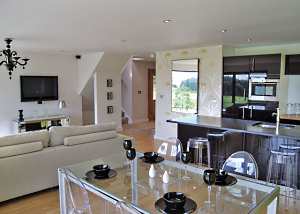 KP lodges are close to the lovely and historic city of York and the lodges themselves are sure to impress. They certainly impressed us! The design is very modern and minimalist which will appeal to many. Customer reviews are outstanding with a lot of people commenting that they are the best lodges they have ever stayed in.

There are 3 types of lodge to choose from, the Millington, the Pocklington and the York Lodge. The Millington is the smallest with 2 bedrooms sleeping 4. Couples and small families will enjoy this lodge with the open plan living area and one double and one twin room. The Pocklington is larger sleeping 6 and the York lodge is perfect for groups of friends and families as it sleeps 8. If a bath is important to you then go for the Millington or the York lodges as the Pocklington has showers only.

KP lodges were new in 2009 and although incredibly stylish and well designed they are also great value for money. If you book the York Lodge for 8 people for example then the cost per person is very low compared to a luxury hotel for example.

Amenities at KP Lodges are also well thought out and include an a la carte restaurant and bar. You could always venture into York for a change of scenery should you want a lively night out or a day shopping. The 18 hole golf course right on the doorstep is sure to appeal to golf enthusiasts.
Other guides you might like
Home »
More Lodges with Hot Tubs »