Griffon Forest Lodges - York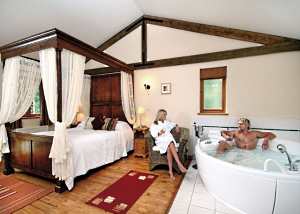 Griffon Forest has long been a favourite for many couples looking for romantic and relaxing breaks. The advantage of these lodges over others in the area is that they are in well established woodland and you really get a feeling of being away from it all. Although these lodges can be more expensive than others you will see why as soon as you arrive.

Each lodge has been well cared for and individually prepared for your stay with fresh flowers and chocolates as an added touch. Many of the lodges have four poster beds and jacuzzi baths in the bedroom making them the ideal romantic getaway.
Every lodge here comes with a private outdoor hot tub and we found the positioning of the hot tubs ideal as you did not overlook your neighbours and vice verca. The location of these lodges could not be better within easy reach of York by car (about 20 minutes) and also within walking distance of a first class restaurant called Tykes. When we stayed there guests at Griffon Forest were entitled to a 10% discount off the food bill which we thought was a nice touch. The restaurant serves local food and specialises in steaks and seafood.
Other guides you might like
Home »
More Lodges with Hot Tubs »