Bluewood Lodges - Oxfordshire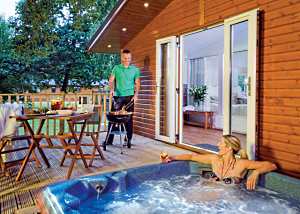 These lodges have a charming setting and their interiors will appeal if you like a modern and contemporary style. The highlights of these lodges when compared to others include the countryside views and the fishing lake. For couples "Cupid's Lodge" is ideal. This extremely spacious lodge comes with a French antique style bed adding to the romance of the setting. Mod cons include a flatscreen TV and ipod and the Cupid's Lodge has the added bonus of a private 2 person sauna.

The hot tubs at Bluewood Lodges are secluded and sunken so you can relax in complete privacy. The Blenheim lodge sleeps 4 and is another favourite of ours. The French Renaissance inspired design is unique and this blends well with the modern elements of the flatscreen TV and ipod. This lodge is perfect for 2 couples holidaying together and families.
Other guides you might like
Home »
More Lodges with Hot Tubs »