Go-Active The Bay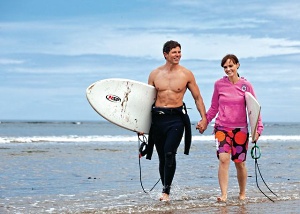 The Bay is part of the exciting, new Go Active Breaks collection and is the perfect place for a break, whether you are looking for none stop action and adventure or a quieter pace of life. The impressive site boasts private frontage onto a safe, sandy blue flag beach from its wonderful elevated setting and so is a ideal choice during the summer when the beach is the perfect place for families to relax. The Bay has proved to be a very popular site and enjoys superb facilities including a welcoming pub, selection of shops and an amazing location.
Being active means different things to different people, but here at The Bay there are activities to suit all tastes. Families for example have a huge array of things to do, ranging from Raft Building to Skip-hop to the fantastically fun Water Walkerz! The Indoor Canoes and Swimming Lessons for children are also recent additions to the park and are sure to prove popular.
Those who prefer to live life on the edge or just want to try something new can take advantage of the High Ropes Course, Surfing or Gliding, while those looking for a gentler pace of activity can try the Petangue or head out on the Fishing Boat. Rambling and Horse riding are also on offer and are good choices for those looking to explore the region.
There are 15 options for accommodation at The Bay, all are well equipped for self catering and have double glazing and central heating to make them cosy all year round. The cottages and apartments on offer include the spacious Dartmouth Cottage which sleep 8 and the comfortable Plymouth Apartments which sleep 4. Many offer lovely views over the park and down towards the sea.
Other guides you might like
Home »
More Go Active Breaks »