Go-Active Gurnard Pines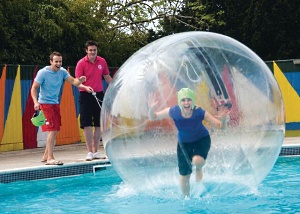 Gurnard Pines is part of the new and exciting Go Active Breaks Collection, offering a fantastic rage of activities for the whole family to enjoy. Whether you are seeking adrenaline boosting fun or looking to get back to nature, than Gurnard Pines is a great choice. The beautifully landscaped site has a fantastic setting, close to the yachting haven of Cowes on the Isle of Wight and is surrounded by acres of tranquil woodland.
As with all of the Go Active Break locations you can expect very high standards from the facilities on offer and an exciting programme of activities, ideal for those looking to enjoy a healthier lifestyle or just try something new. Family memories are made on holiday, and at Gurnard pines there are plenty of ways to spend quality time as a family while having great fun.
Activities are split into several categories including Ready Steady Go - Activities for all the family such as Waterwalkerz and Swimming, Go Pro - introductory lessons and professional coaching for things like Archery and Fencing, Go Wild - High energy, thrilling activities including Coast Steering, Kayaking and Windsurfing, Go Discover activities like Rambling, Horse Riding and Nature Walks and finally, Go Slow Activities, for those wanting something a little more relaxing. These include things like Yoga, Golf and Sea Fishing. For children the Go Junior programme ensures that they can get just as involved in the action and can make new friends at the same time.
Gurnard Pines offers a good choice of Villas and Lodges ranging from the budget friendly Solent Villa 2 which sleeps 4, to the top of the range Solent Villa 3 Plus which sleeps 6 and has a luxurious private hot tub. Rustic style pine lodges are also available. All of the accommodations have everything needed for a fantastic self-catering holiday.
Other guides you might like
Home »
More Go Active Breaks »