Go-Active Finlake Lodges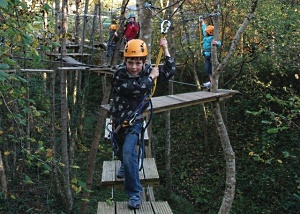 Forming part of the exciting new Hoseasons Go Active Breaks Collection, Finlake Lodges in stunning South Devon are the perfect choice for families, couples and groups of friends looking to enjoy an active lodge holiday in a relaxing setting. Finlake Lodges are located just half an hour from the coast and yet feel as though they are deep within the countryside. The site is beautifully landscaped and boasts outstanding leisure facilities.
At Finlake you can choose to enjoy a wide choice of fun attractions ranging from nature based activities to adrenaline boosting high ropes courses and BMX bikes. Activities have been split into 5 categories so it is easy to choose the right ones for you. On Target For a Good Break activities here include things like Archery, Fencing, Crossbow and Kwik Cricket, all of these activities are fun and allow guests to learn new or improve existing skills.
Walk On The Wild Side activities include Abseiling, High Ropes, Caving, Surfing and the fantastic Water Park which boast 8 slides and chutes. These activities are exciting and adventurous and ideal for those looking to try something a little bit different.
Actively Good For You activities are much more gentle and relaxing and include Course Fishing, Golf, Beauty Treatments and Short Mat Bowling. These activities are recommended to those who enjoy a quieter pace of life or just need some chill out time.
Explore The Great British Countryside activities are all about nature and the great outdoors and these include horse riding, cycling, and Rambling, all great ways to get out and discover what the region has to offer.
Finally Active Families Have More Fun! The activities in this category are all things that the whole family can enjoy. Choose from water based fun such as Waterwalkerz and Seascooters, land based attractions such as Rounders, Uni Hoc and Short Tennis or more traditional family favourites such as swimming. All of these activities are on offer at Finlake Lodges. While some do incur extra charges, these are reasonable and ensure fantastic value for money.
Accommodation at Finlake is also excellent with a wide choice of Country and Woodland Lodges. Country Lodges are 12ft wide timber clad holiday homes offering spacious accommodation for families on a budget. Woodland Lodges are larger and more luxurious and some have private hot tubs. All are very well equipped for self Catering.
Other guides you might like
Home »
More Go Active Breaks »