Dorset Holiday lodges
Holiday Lodges in Dorset are becoming an increasingly popular alternative to traditonal Dorset holiday parks. Lodges offer a more luxurious and romantic base for your holiday and tend to have more mod cons like dishwashers and flatscreen tvs. Newlands Park is a good example as they have lodges in addition to caravans and apartments. This 5 star holiday park has indoor and outdoor pools as well as a peaceful setting. Warmwell holiday lodges in Weymouth are also highly recommended. These spacious lodges have a scenic woodland setting and are perfect for all year round breaks.
Dorset Holiday lodges - Quick Search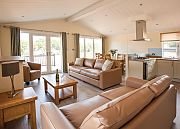 Hawkchurch Resort and Spa
Hawkchurch Resort and Spa is the perfect choice for a luxurious and relaxing retreat with first class lodge accommodation and excellent Spa facilities.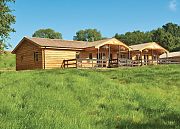 New Forest Lodges
A haven of peace and tranquility this stunning cluster of lodges offers the perfect luxury escape.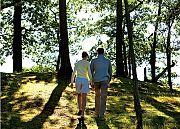 Osmington Holiday Park
Osmington Holiday Park is just 5 miles from the seaside town of Weymouth and offers a relaxing base to explore this stunning area.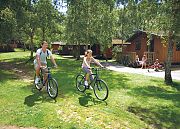 Warmwell
Warmwell makes a lively base for your family lodge break with indoor pool, kids clubs, mini 10 pin bowling and evening entertainment.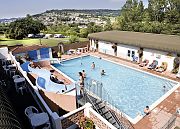 Newlands Park
Newlands Park is recommended for families as it has an indoor and outdoor pool, kids clubs and adventure playground. Choose to stay in lodges, apartments or caravans.
Fun Days Out in Dorset
Monkey World
Monkey World is not only a local attraction but the work they carry out is amazing. Rescuing and rehabilitating monkeys and assisting governments around the world to stop the smuggling of primates are just some of the purposes of the centre. You get to see the primates themselves many of which have become famous from appearing on the TV show Monkey World - a documentary about this place. Open year round we think this is one of best attractions in Dorset and you even get the chance to adopt a monkey if you choose.
Dorset Teddy Bear Museum
This family orientated museum is dedicated to Teddy Bears both old and new Edward Bear and his family of people sized bears are one of the main attractions. You can buy teddy bear gifts from the quaint shop including top notch brands. The Steiff Teddy Bear and Merrythought bears are very popular. Open 7 days a week all year round (except 25th and 26th December) this is a perfect all weather place to visit.
Kingston Maurward Gardens and Animal Park
Kingston Maurward Gardens and Animal Park is a magical place to visit with grand gardens and plenty of animals to meet. From goats and ponies to alpacas and pot bellied pigs this attraction is excellent value for money. You can feel free to explore the grounds too which are especially lovely on sunny days. You will see majestic floral displays, stone terraces, a temple and even a lake.