Cheshire Holiday lodges
Cheshire offers something for everyone with an enviable countryside and charming towns and villages. If you are thinking of a holiday in Cheshire then why not consider a lodge break where you can enjoy freedom and flexibility to spend your holiday as you choose. The Ridgeway Lodges are recommended if you are looking to be close to the countryside and the town of Chester is an easy drive from the lodges - just 8 miles away. Families may like the Linmere Lodge accommodation on site which is spacious and well designed to meet the needs of a family.
Cheshire Holiday lodges - Quick Search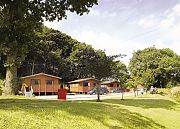 The Ridgeway
The Ridgeway Lodges in beautiful Cheshire woodland are perfectly located allowing easy access to the stunning countryside.
Fun Days Out in Cheshire
Blue Planet Aquarium
Fantastic attraction in the Cheshire region suited to family days out as well as school and corporate visits. The "Jawsome" sharks are a sight to behold and new for 2010 is the Tarantula Tower. You can save time and money by bookings online and at the moment they are offering a discount of £2.00 per person when you book this way. Winner of the Visit Chester and Cheshire Best Tourism Experience of the Year - you can be assured of a fun and educational day out. Look out for special events throughout the year including Boo! Planet Halloween and Otter Month.
Gulliver's World Theme Park
This is a very popular theme park with three different locations. The theme park in Warrington contains not only the theme park but also Gullivers Splash Zone and Gullivers Star Studios. The Solash Zone is a fully heated indoor water play factory fun for all ages which will appeal on rainy days. Throughout the year there are seasonal events too such as the Halloween and Fireworks event taking place from 23rd to 31st October. You can book online to save time and secure your tickets during busy periods. Over 50% of the rides are actually under cover so you don't need to worry about the British weather spoiling the fun.
Go Ape Cheshire
Out of all of the Go Ape! courses the one in Cheshire is the most spread out and it takes staff ten minutes to patrol the site on bike - which gives a good indication of the size of this place. If you're looking for an adventurous and memorable day out then Go Ape is highly recommended. Trek through the treetops, swing between the trees and enjoy zip wire rides all as part of your experience. This attraction opens every day from the end of March to end October and is open on weekends in November. Go Ape Cheshire is closed every Tuesday except school holidays.
Palms Tropical Oasis
This is a really unique attraction in the Cheshire region where you can discover the world of a deep rainforest and see all kinds of animals. Some of the highlights include a family of Meerkats, Prairie Dogs, Tarantula, Piranhas, Assassin Bugs, Atlas Moths (the largest in the World) and Red Rump Parakeets. The admission charge has recently been reduced making this better value for money than ever. There has been some recent re-development and refurbishment and the re-opening from 16th October will contain an exciting new range of exhibits.